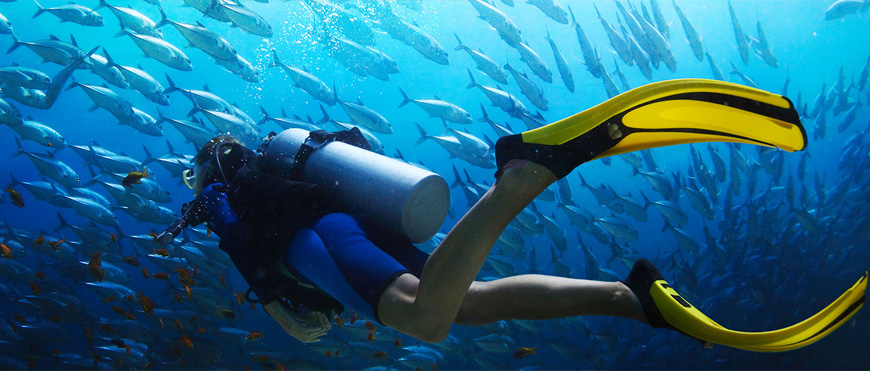 That Wonderful World under Water- Explore with Scuba Diving
The majority space of the earth, The Sea, wonderland of this nature!! The mysterious world and the immensity of its beauty is embracing everyone to explore on this wonder creator of Almighty. It is really an amazing experience to observe and realize the mystic beauty of Sea with our eyes.
Scuba diving is an activity of jumping beneath the water to experience the new environment. This process is characterized by its uniqueness of being an extra environment to humans. Self-containing breathing apparatus with controlled measures, Divers explore the wonders under deep water.
It is a magical experience to flow like weightless or swim like fish, where every moment will be thrilling on each suspense under water. Experiencing these wonders are never a dream that won't happen ever. There are countless options for all people who love to go underwater. Learning Diving seems an easy task if you have a mind tuned into it.
Types of Diving:
Generally, diving is of two types. Freshwater diving and salt water diving. Depends to the purpose and motive of diving, measures vary in both diving. From a different variety of scuba diving, you can choose the one as per the preferences.
 Open water diving– Recreational diving on open water with a certified license.
 Drift diving – Diving with the help of natural currents, where movements are supported by the natural flow of water.
 Night diving- Diving with special light and facilities to explore the darker version of the Sea.
 Deep diving- Diving to deeper than 18-meter water to explore the mystic beauty of the Sea.
 Ice diving-Exploring marine world beneath the Ice.
 Cave diving- Diving which explores water passageways or caves beneath the water.
 Wreck diving- The most attractive diving through which you can explore shipwrecks.
 Technical diving – Type of diving deeper where no natural light or air is present. Technically altered breathing apparatus with special control on pressure and other life support systems are used in this type of diving.
 Rescue diving – Type of diving in response to emergency situations. They act as the lifesavers for those in need of help under water.
How to be a diver in UAE?
Scuba diving very easy to do, still it requires professional assistance as you are subjected to an extremely constraining environment to life. Diving is an activity which requires adequate swimming skills and concentration. With constant effort and dedication, you can be diver. The expert divers will train you with real-time exposures. You need to be curious and adventurous on nature. Exploring on new sites of underwater nature will be a highly charming experience. Invading on new underwater places requires much attention skill towards surroundings, in order to possess safety measures. All these can be done if you are enrolling with a professional diver course.
There are numerous diving courses offered around. But the most accepted diving course is from PADI Diving School. It is the Professional Association of Diving Instructors. The right kind of diving certification with the right instructors at the right place is the peculiarity of this course. PADI provides advanced and beginners' level diving certification program in UAE. PADI open water diving course and PADI adventurous diving classes are well known in UAE.
Scuba diving locations in UAE:
UAE is one of the best place where you can find the mystic underwater surprises. Best scuba spots of UAE are as follows:
 Dibba Rock, Dibba
 Inchcape 1, Fujairah
 Inchcape 2, Fujairah
 Sir Abu Nua'Ir Island, Sharjah
 Snoopy Island, Fujairah
 Martini Rock
 Shams Rock, Fujairah
 Zainab wreck
 MV Dara wreck site, Dubai
Benefits of water diving:
• Improves cardiovascular health by increased blood circulation.
• Strengthen muscles and improve flexibility by continuous swimming moves.
• Burns calories and thereby help to reduce weight.
• Improves coordination and balance as diving requires focus and attention.
• Improves concentration and focus to goal.
• Reduces blood pressure.
• Improves healing nature as exposing to saline water.
• Reduces stress and anxiety- Being a fun and entertainment activity it always console heart.
• Improves self – confidence and self – esteem.
• Connection with nature- diving helps to know more about nature by exploring new sites under water.
• Adventurous skills – diving into deeper sea always a breath taking site to the viewers.
• Enthusiasm- Diving always help the individuals to be smart and active in all actions.
Scuba diving always offer a fascinating experience to the divers. The exotic moments on deep water are heart whelming situations, where you will realize the real mysteries of the world.
Dive in…swim along with fishes…taste the new nature!!!